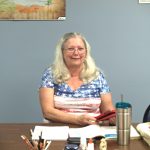 "Lamplighters walk as children of light- for the fruit of the light results in all goodness, righteousness, and truth." Ephesians 5:8-9
Lamplighters equip women to be lights for Christ through Bible study, prayer and fellowship so please come join us! We enjoy studying the Bible through open discussion of the Word. We also are encouragers who strive to be a light to others. We encourage anyone who is looking for a group to join us in our Sunday morning fellowship.
Class Motto: Coming together is a beginning; Keeping together is progress; Working together is success.
Teacher Room Number Class
Pat Stello 222 Lamplighters (Ladies)